I've been wanting to review this delightful film for some time now, but simply haven't gotten around to it. We watched it again just last week, which renewed my original desire to do a review on Literary Lane for it. It has been some time since I last posted a movie review — nearly three or four months, I think — and I am quite excited at the prospect of it. Shall we proceed, then?
Starring Romola Garai, Jonny Lee Miller, Michael Gambon, and Tamsin Greig
*Summary taken from the back of the DVD
Twenty-one-year-old Emma Woodhouse has very little to worry about. She is beautiful, clever, and rich, with a comfortable home and some of the best blessings of existence. More than anything, she loves playing matchmaker to her friends and family. When you, pretty, naive, and socially inferior Harriet arrives, Emma decides to indulge her passion. Against the advice of family friend and surrogate older brother Mr. Knightley, she persuades Harriet to reject an advantageous marriage proposal from a local farmer in order to hold out for an offer from the dashing Mr. Elton. But Emma soon discovers that Mr. Elton is far more socially ambitious and mercenary than she had ever realized, and her advice to Harriet goes terribly awry.
My Thoughts: First of all, this is the one and only Emma adaption that I have seen. I know it's practically a crime in the homeschooling world not to have seen (and loved to the moon and back) the 1996 version with Gwyneth Paltrow, but for some reason, I've never seen it. So, my pros and cons for this version of Emma are solely that: pros and cons for the 2009 BBC edition. If I had seen the older version, my opinions might be different . . . but I haven't seen the older version, so I can only base my judgements upon what I know. I thought I ought to clarify that before we begin. ;)
This particular version of Emma is fresh and funny, and I like it more every time I see it. I confess that I have not found it to be absolutely amazing in every imaginable respect (like, say, The Patriot or The Young Victoria), but is is a very enjoyable film nonetheless.
In creating the character of Emma, Jane Austen is reported to have said, "I'm going to take a heroine whom no-one but myself will much like." What turns out is a character unlike all her others, and yet very likable in her own way. Romola Garai does a wonderful job as the title character, and her Emma is lighthearted, flighty, and lovable, and quick to admit her failings. Yes, Romola did seem more modern than your typical Jane Austen character at times, but not to a blatant extent. I found her Emma very entertaining and endearing, and she brings the screen the life.
In regards to Mr. Knightley, as
Rachel
so eloquently put it, "We all know who he is . . . We all know that words would not begin to describe the depth of his character. Thus I shall borrow his own words and appropriate them to myself:
Perhaps if I felt less I could talk about it more.
" And that pretty much sums up my emotions in relation to this fine and upstanding character.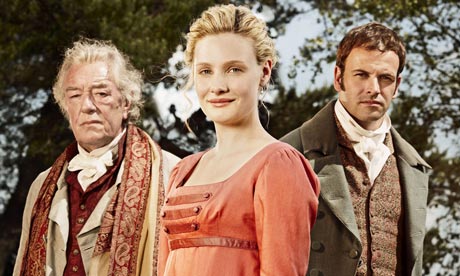 This would not be a complete review if I did not mention how very much I love Michael Gambon as the finicky and health-conscious Mr. Woodhouse. He is Emma's father — there are no two ways about it. I love all of his lines, especially, "Be sure to wrap up, Emma, in case one of the young people does some extremely apprehensible, like opening a window." ;)
Pros: Completely family-friendly, no bad language of which to speak, a gorgeous soundtrack, beautiful scenery, lovely costumes, memorable character . . . the list goes on and on.
Cons: Certain actors and actresses are a bit more modern in their acting, which sometimes doesn't seem to fit in a movie set during the regency period. The dancing was another one of my complaints — somehow it seemed to lack the elegance and grandeur that I have come to love in Jane Austen adaptions. But other than those two comments, nothing.
Memorable Quotes:
Mr. Knightley: "That man is so full of himself it's a wonder he can stay on that horse."
Mr. Knightley: "Lucky guess."
Emma Woodhouse: "Nothing lucky about it. Just talent . . . and intuition."
Emma Woodhouse: "What did he say to you before he left?"
Harriet Smith: "Oh, that my painting was coming along splendidly."
Emma Woodhouse: "Oh . . . he really must be in love!"
Isabella Knightley: "I believe George is not well. He is listless, snappish."
Mr. Knightley: "What?"
Isabella Knightley: "You are behaving strangely, not yourself. You did not wish to go to dinner with the Cavandishes. You did not want to take the boys to find frogs in the park."
John Knightley: "Some might say that hesitation was a perfectly normal responce to both those invitations."
Emma Woodhouse: [of Mr. Elton] "He always was a small man. Made smaller by his wife."
Rating:
4 out of 5 stars
What are some of your favorite films?
P.S. Is your name
Lauren Hope
(#4), because you won the
giveaway
for Jenny's book,
The Shadow Things!
Email me (literarylaneblog[at]gmail[dot]com), and I'll give you all the details on how to claim your prize. :) Congratulations!