Can you believe it's Christmas Eve? I think I'm still in denial. Not that I don't want it to be Christmas Eve, of course . . . it just came so
fast
. I haven't had a lot of time to partake in the "Christmas-y" activities that normally occupy my December this year, and at times, I'm tempted to feel somewhat robbed, as if I missed something special. But whenever I start to feel those emotions creeping in, I remind myself of the truth. Is Christmas really about lights, pretty music, and getting presents? No. All those things are nice in their own right, but the true meaning of Christmas is in celebrating the birth of our Lord and Savior, Jesus Christ. He humbled himself as a baby, was born of a virgin, and died on the cross at Calvary,
because He loved us so very much.
And that is pretty amazing.
Getting back to the topic of today's date . . . our family has a dear tradition of watching It's A Wonderful Life together every Christmas Eve. It's such a precious time of gathering together on the couch and enjoying an old classic, and it's one of my most favorite traditions.
Starring James Stewart and Donna Reed
*Summary taken from IMDb.com
George Bailey spends his entire life giving up his big dreams for the good of his town, Bedford Falls, as we see in flashback. But in the present, on Christmas Eve, he is broken and suicidal over the misplacing of an $8,000 loan and the machinations of the evil millionaire, Mr. Potter. His guardian angel, Clarence, falls to Earth -- literally -- and shows him how his town, family, and friends would turn out if he had never been born. George meant so much to so many people; should he really throw it all away?
My Thoughts: From the first time I saw this movie, I loved it. Everything about it is memorable, and it's simply overflowing with 40's charm and wit. George Bailey (Stewart) is the perfect example of a hardworking man. Continually, he puts his family and others he loves before himself, sacrificing his own interests for their sake. Mary (Reed) is a loving and devoted wife and mother, and she always supports George. She is an optimistic woman who never sits down and feels sorry for herself, but instead chooses to make the best of every situation.
Pros: First of all, it's black and white -- what's not to love? Black and white movies have so much more character, I think. Second, it's a wonderful story, with truly memorable quotes. The value of family and friends is shown very clearly, as well as loyalty to your own kin. When George begins acting strangely, Mary immediately alerts the neighbors, asking them to pray for her husband.
Cons: Some violence towards the end, but not much about which to be worried. The point of it is to convey what the world would be like without George Bailey, not to revel in bloodshed.
George Bailey:
[to Clarence]
"What's the matter with him? I never saw Nick act like that before."
Clarence: "You'll see a lot of strange things from now on."
George Bailey: "What is it you want, Mary? What do you want? You want the moon? Just say the word and I'll throw a lasso around it and pull it down. Hey. That's a pretty good idea. I'll give you the moon, Mary."
Mary: "I'll take it. Then what?"
George Bailey: "Well, then you can swallow it, and it'll all dissolve, see... and the moonbeams would shoot out of your fingers and your toes and the ends of your hair... am I talking too much?"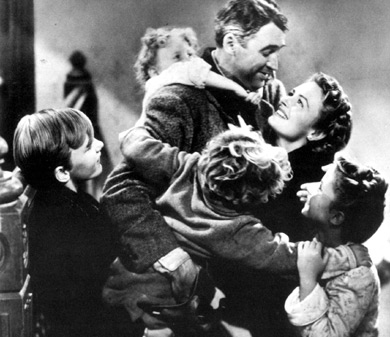 George Bailey: "Now, come on, get your clothes on, and we'll stroll up to my car and get... Oh, I'm sorry. I'll stroll. You fly."
Clarence: "I can't fly! I haven't got my wings."
Harry Bailey: "A toast to my big brother George: The richest man in town."
Little Violet:
[commenting on George]
"I like him."
Little Mary: "You like every boy."
Little Violet: "What's wrong with that?"
Zuzu Bailey: "Look, Daddy. Teacher says, every time a bell rings an angel gets his wings."
I recommend this film for all ages, as long as a parent is watching too (in order to explain certain parts).
Merry Christmas Eve, ladies! How do you plan to spend the day?