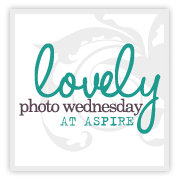 ... and it also does get quicker! Have you noticed how the older you get, the faster time seems to go by? Really, it's amazing. As a 5 year old, a year is the equivalent of eternity. Now, a year doesn't seem that long. Crazy, huh?
And that leads us up to this photo...
Time. This bench embraces--for me--the essence of

time

. Once, the varnish on this bench was new and golden, and it was proudly displayed in our house. Sticky fingers touched it, small children sat on it to open presents at Christmas time--it was a well-loved article of furniture. But then, Momma decided that it would be nice as a garden bench outside. And so, it was brought out of the warm comforts of the house and left out in the wind and the rain, the sun and the sleet.
Now, this bench is worn and splintered. The paint is cracking, and the wood is warped. And yet, there is beauty in the bench--the beauty of dreams and hopes, of laughter and smiles, of tears and sadness, all wrapped up in this small wooden bench. When I glance at it, I am suddenly overcome by past emotions, all linked to this piece of furniture.
This bench is the essence of beautiful memories of days past.