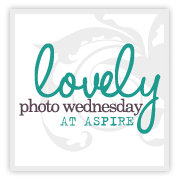 What is LPW? I'll tell you what LPW is--
L
ovely
P
hoto
W
ednesday over at Hannah's
Aspire
! Click the button to link up, and see Hannah's beautiful photo!
Now here is my entry:
I don't know why I love this photo so much, honestly. Maybe it's the beautiful vibrancy of the colors. Maybe it's the simplicity. Whatever it is, this is one of my favorite photos. I hope you enjoy it, too!
Remember to link up! Just click the button above.