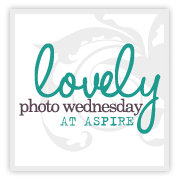 As you can see, this post has
no title
. This is for you,
Hannah!
That comment *above* is because it's Hannah's
Lovely Photo Wednesday!
As a spin-off of Wordless Wednesdays, we are instructed by sweet Hannah to post a photo of ours that we love, or one that is just plain hilarious. Here is my photo (which fall under the category of just plain hilarious)
:
Yes, those are marshmallows. Yes, they have faces
(courtesy of Magic Markers).
And yes, they
are
in the oven, just waiting for someone to find them.
While on vacation, my sisters and I grew a little restless. So, taking the bag of marshmallows (bought for the purpose of making s'mores), we gave each marshmallow a personality of it's own.
What do you think? Should we avoid all boredom in the future, in order not to waste our time as we did here? Or are we creative geniuses? You decide. :)
Click over to
Aspire
and link up with your own lovely photos!